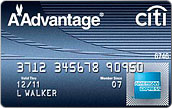 Citibank has been sending emails to many of its customers offering 75,000 miles for signing up for any of its 3 American Airlines AAdvantage credit cards. The catch is you need to spend $1500 on the card within 6 months of activating to get the bonus miles.
They are waiving the $85 annual fee the first year. So, if you are okay with the impact a pull on your credit file will have on your credit report, 75,000 miles is one of the most generous offers we have seen for any mile credit card.
Note if you have had a Citi American Airlines credit card in the past you will not be eligible for this offer. However it appears new card applicants who follow the link below are eligible for the offer if approved.
Here's a link to the discussion (long) on FlyerTalk.com about this offer. Some ambitious mile collectors have applied for all three cards and received approval for the offer. Your experience may vary.
The following two tabs change content below.
Miles dont expire
as long as card is open
50,000 bonus points
Intro Offer
$0 introductory annual fee the first year, then $95
Annual Fee